Going beyond the social media buzz conference July 14th in London – published 2010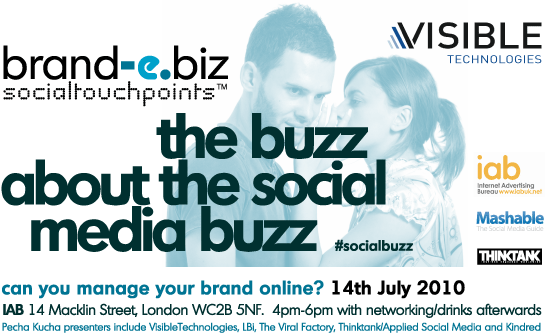 On July 14th between 4-6pm Visible Technologies is sponsoring an event at the IAB in London looking at the "buzz about the social media buzz".
The team at brand-e.biz has assembled a fantastic line-up including
Chris Clarke, Global Chief Creative Officer, LBi on leveraging social media for the Conservative Party
Robin Grant of We Are Social on real-time monitoring and planning
Matt Rhodes, Client Services Director at FreshNetworks, on the Jimmy Choo Trainer Hunt – creating online/offline buzz
Claudio Branno, head of seeding at The Viral Factory, on seeding and tracking viral campaigns
Claire Ralphson-Cook of Thinktank International and Mary Stewart-Hunter of Applied Social Media with a buzz world cup case study
Paul Armstrong, director of social media at Kindred, dispels those myths about measurement
The session will be moderated by Steve Mullins of brand-e.
I'll also be there speaking about a favourite topic of mine "going beyond the buzz" – which will also be the subject of a future blog post. As an industry we MUST stop talking about "buzz" all the time and start talking about how we can action all of this excellent market insight and in turn provide a better experience for our customers.
If this event looks interesting to you then then SIGN UP NOW -> space is limited at a very generous £95 (plus VAT) per ticket.
When: Come at 3.30pm, panel kicks off at 4.00pm, open chat starts at 4.45pm, formal business ends at 6.00pm, drinking and schmoozing goes on until 7pm.
Where: IAB HQ, 14 Macklin Street, London, WC2B 5NF map: http://lc.tl/iabuk
To book: Go to brand-e and click on
You may also like ...