Announcing the London Calling android app – now in the Google play app store
I am pleased to announce that London Calling now has its own Android app – available in the app store!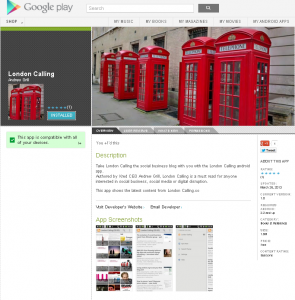 After much auditioning of mobile app makers (and not wanting to pay £1000's to a developer just yet), I used the AppYet mobile app creator to quickly create a very professional looking mobile app from my RSS feed.
The app includes the ability to auto-download new content, and notify you in the notification area about new content, as well as change the layout and theme.
AppYet has recently upgraded the look and feel to v3.0 and it is a nice, professional looking app – something I am proud to promote my content with.
They have a simple to use interface (it actually takes longer to remove features you don't want than to create the app), that will get your RSS feed into a mobile app in minutes.
Naturally, as the app builder is free, there is a catch and they insert ads into the app. Thankfully though, they have an option to turn off the ads for 3 months at no charge, serve admob ads, or for $49 a year remove the ads completely.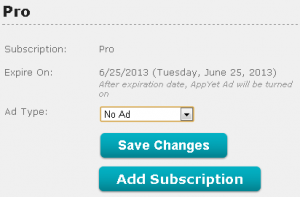 Once the app is built, which takes about 20 seconds, they email you the .apk source file.
You can then download the file to your Android (you need to set permissions in your app settings to allow 3rd party downloads) to test.
The end goal though is to appear in the Google Play App Store, and for this you need to register as an Android developer. There is a one-time $25 fee to register, and the process is pretty straightforward.
Once registered, you upload your .apk file emailed to you from AppYet, and then start to fill out the listing for your app. The app store back end looks like this
It is fairly straightforward, the only trick is getting the app store graphic images sized exactly as per the submission guidelines eg 512 x 512 and 1024 x 512
To download the app, head to my app page. You can also search for "london calling" in the Google play app store from your device.