Financial Services Social Media thought leader Christophe Langlois from Visible Banking joins IBM Interactive Experience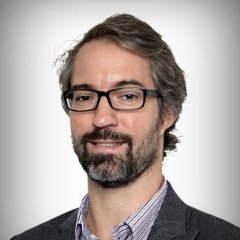 I am delighted to announce that Christophe Langlois, Founder of VisibleBanking.com is joining IBM Interactive Experience next week in our European Social Business team. I have known Christophe personally for a number of years, and he is someone I have been trying to hire into IBM for a while.
Christophe is already well known to many London Calling readers and I am sure you will agree that this is a key hire for IBM to grow our social business consulting practice here in Europe.
While Christophe and I met in a Starbucks in 2009 when I was with Visible Technologies, we actually met again more recently in a Starbucks, via social media.
The story is that one Saturday earlier this year I was in my local Starbucks in Kensington, and had checked in via Foursquare. Christophe was in the area and saw my check-in, and walked past the store where I was sitting at the front next to the window. We saw each other and shared a coffee, and now he's joining big blue – social in action!
While Christophe is best known for Visible Banking, he started his career in Banking, with Lloyds TSB, Societe Generale, Accuity, and Swift, and over the last 7 years, he has built Visible Banking to become the definitive resource for social media related to financial services.
He speaks regularly at financial services conferences, something I am delighted will continue in his role at IBM where he will be helping our key financial services clients better understand the power of social.
Listen to Christophe explain in his own words why he is joining IBM in a short video we shot at the Hospital Club.
His website is probably the world's "go-to" site on financial social media information – I encourage you to have a look and also welcome Christophe to IBM from next week.
Christophe is one of two key hires I have recruited into IBM, and I'll introduce our second key hire tomorrow – stay tuned!
You can also read Christophe's own blog post on his announcement here, where he sums up his news in the following sentence:
"All those reasons make me believe that this new chapter of my professional life is bound to become my most challenging, most exciting and most fulfilling experience yet."
Christophe's social profiles can be found below, and if you're someone in the financial services industry, you need to follow him.
LinkedIn profile
Twitter: @Visible_Banking
www.visiblebanking.com
You may also like ...